I swear Disney knows how to do races! This Half Marathon was my first "race" since my injure and I really was not 100% sure how I would do. So before the I even left for California I had decided to use this as a training run for my full marathon in November. Normally I would look at the course prior to my run but since I had not expectations I just went out there and ran.
I feel Disney is better in pictures so here are a fun from the race:
This was at the expo and it was a guide if you wanted to stop and get your picture taken with some characters. Definitely lots of good choices!
My shirt and bib # signed by Jeff Galloway
This is a first!!
I have never ever seen a race with no line at the portapots!!! We got to the start around 4:50 with a race start time of 5:45...I hate that rushed feeling trying to get to the corral or standing in the bathroom line watching time tick by. This race was so much more laid back and I never once felt rushed!
Corrals were easily marked and easy to get to! I love that the start was right by our hotel.
This quality picture is of this awesome man who dresses as Minnie Mouse for ALL the Disney races. I have a picture of him after the Goofy's Challenge this past January and I had to snag another! We chatted for a bit and then it was time to start.
It was rather dark when we started and for most of the race until about mile 7. The miles flew by and running through the parks and feeling all that magic is priceless!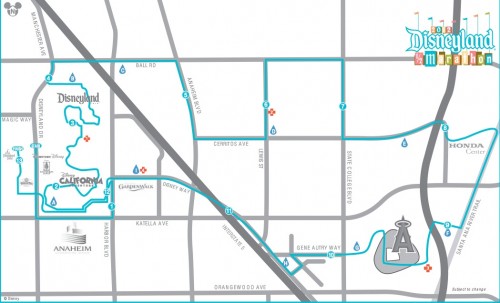 Here is the course map.. from miles 5-9 there were a lot of old time cars, mustangs, cheerleaders, and dancers. One of my favorite parts was running through Angel's Stadium!!! The stands had tons of spectators and boy scouts cheering for us...They also were announcing some of the runners names and when I heard my name I put a little extra pep in my stride. So cool! At this point I had just passed the 1:40 pace group who I had started after. I told myself "do not let them catch you". I finished the race a felt like I could have definitely pushed a lot harder and wished that I had. Here are my stats:
| | |
| --- | --- |
| Distance | HALF MAR |
| Clock Time | 1:38:15 |
| Chip Time | 1:37:55 |
| Overall Place | 216 / 14836 |
| Gender Place | 28 / 9341 |
| Division Place | 3 / 1647 |
| 5K | 24:02 |
| 10K | 46:57 |
| 15K | 1:09:41 |
This is by no means a PR for me and prior to my injury I had planned for a 1:28 but I definitely think I could have pushed and got a 1:33...Oh well there is always next year! I loved every mile of this race and look forward to doing it again and again.

Post race pics:
Stretching out my legs


love the Up costume!

Disney races always have the cutest costumes....I love all the Team Sparkle skirts and cannot wait to wear mine in January!
Bling!


I highly recommend doing a Disney race at some point in your running journey! They are such a blast and you get to enjoy all the yummy food in the parks and restaurants and do feel so bad for indulging..Haha!
Who plans on running a Disney race in 2013?
I am doing Goofy's Challenge in January again.
Happy Running!